Milden Hall 2018¶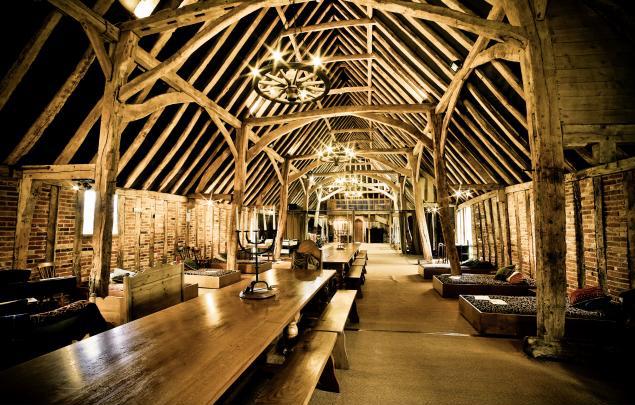 The Tudor barn, Milden Hall
In 2018 we'll be back at Milden Hall in Suffolk – from dinner on Wed 3 October to breakfast on Tue 9 October.
Weekend guests¶
As in 2016 we shall have guests for the weekend and a barbecue on the Saturday evening.
See Camp QB for details.
Dining¶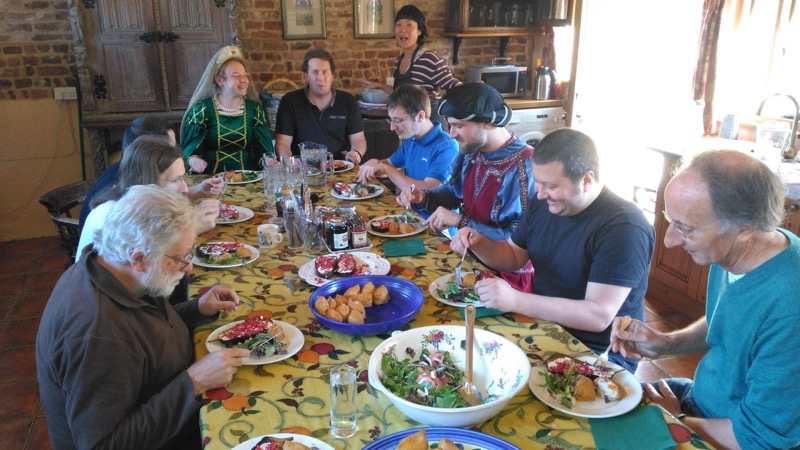 Lunch in the kitchen, 2016
Miki Yamanouchi will again be our in-house chef, working with local produce, ales and her own honey and marmalades.
Programmers can't go a week without pizza, so on Fri 5 Oct we shall dine at the White Horse in Edwardstone, a mere 3 miles away on Milden Hall's bicycles. (Reportedly shorter on the way back.)
Accommodation¶
Accommodation is varied. The standard is the student study bedrooms of Trinity Hall, Cambridge, where we first met. Beds are single, bathrooms shared. At Milden Hall most rooms are nicer than Trinity Hall. Some of us will stay in more comfortable rooms about 10 min drive away.
Apologies to those who will be unable to join us. Part of what makes the house party work is mixing different ages and experience. Every year we fail to invite some well-qualified and eligible people who would make great contributions.
Travel¶
Milden Hall is about a 2-hour drive from London.
Trains from London Liverpool St reach Sudbury in 80 minutes; a taxi then gets you to Milden Hall in 15 minutes.